My first week of fun in Kampala Uganda, Part 2: 1000 trips to the mall with a chicken & Random Rambling Mango Maze Ranging.
1000 trips to the mall with a chicken: Getting my sim cards was quite difficult. It took me 5 trips to the local mall and some very rigorous negotiating. I'll spare you the details. However I did have a very large chicken accompany me most of the time. She was very sweet and had some great ideas for places to visit in Kampala. Unfortunately, she was of human decent and not avian, but her last name has something to do with Chicken in Dutch. I am really not exaggerating that much about the mall. We went there, begrudgingly, so many times! Practically living in this western style mall was not the best way to experience Ugandan culture, however I did learn to be more patient. I also witnessed the famous proselytizing in action. Speaking of shopping, we finally did get to go to an authentic local market…
Random Rambling Mango Maze Rangaling: We decided to explore the Owino Market. It was full of tight isles zigzagging though a seemingly never ending forest of booths, tarps, piles of goods, and of course people calling out mazungu! We went through small rickety but inviting and mysterious wooden structures that reminded me of my family farm's chicken coups; instead of holding chickens (yes apparently I am fascinated with chickens),  it was full of people sorting beans, spices, and herbal medicines. To our embarrassment, we inevitably found the endless piles of donated used american shoes that are undercutting the local shoe market. We also got to see people weaving baskets, sewing clothes, and making other goods in the more modern concrete structures that seemed to randomly generate in corners of the market (like walking through a video game map).  Now to the mango maze rangling: Just as we entered the market, zigzagging through the narrow isles we bumped into a local called Kata. Kata quite politically yet forcefully insisted on showing us around the market. We were hesitant about it at first, but we got to explore the market very thoroughly without getting lost (as it is famous for being difficult to find your way out again). Once the sun started dwindling, we tried to part ways with Kata. He made this very difficult. Kata wanted to show us more of the city. We tipped him thinking he would part ways with us. However, he instead ran off and returned shortly bringing us a bag of mangos that he purchased for us with our tip as a gift!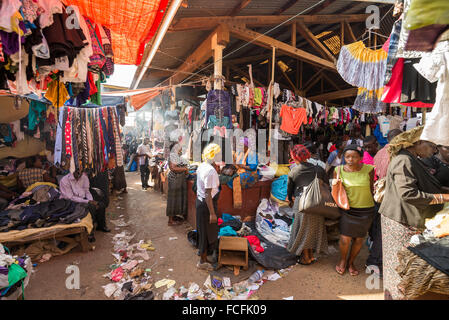 More about Chickens: People carry chickens around in baskets in Kamapala. Also, I saw lots of chickens on the road to more rural areas. There was a very pretty mother hen with supper cute chicks following her across the road. *Hmmm, Why did those chickens  cross the road?*